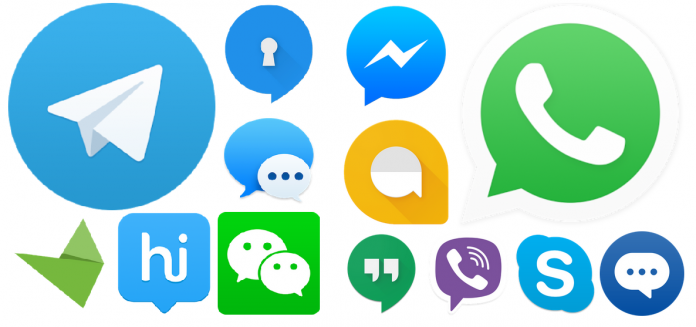 Keep connected, talk, exchange views, and emotions, laugh, and enjoy. These are just some of the things that you could successfully accomplish from the best instant messenger 2014. Fun and excitement never stop with all these IM software applications and clients. You'll have the chance to meet people all over the world without spending anything out of your travel expenses.
By simply holding all your handy gadgets even desktop computers you'll have the chance to meet people of different ages, statuses in life, and nationalities. You can also be as creative as you can with these chatting tools. Most importantly you'll get to be updated with the latest in social media with all the comfort and ease-to-use features that you want out of your favorite chatting software. Download the best instant messenger 2014 now.
1. Facebook Chat Instant Messenger
Everyone is familiar with the Facebook. Of course! It's the world's most popular social media today. However, if you want to experience this website in its handier and miniature form, then opt for the best alternative, Facebook Chat Instant Messenger. This instant messaging tool is sure to be your perfect partner to let you keep connected with all your contacts without signing in on your Facebook account.
It is highly interactive chatting tool with all the convenient features for sending and receiving messages. It is also purely free for all Windows Operating System. It's your portable tool to send urgent messages, lovely quotes and surprise tags to all your friends and love ones. You can bring it everywhere with you. Hence, you'll never miss a chance to get involved with social media. It's very manageable wherein it allows you to complete the entire task with just a single top on the send button.
It has also an automatic notification for you not to missed anything from your contacts even if you're playing games or listening to your favorite songs. You can also be as expressive as you can with every message you sent by adding cute and great variants of emoticons. Discover more from this best instant messenger 2014; it's totally free to have one.
2. Pidgin
Now it's time you meet the bubbliest icon of your best instant messenger 2014, Pidgin. This portable instant messenger is sure to be your best friend from now on. It supports not just one instant messaging protocol but a list of IM that will definitely keep you busy with social media. Hence, you can do lots of multitasking jobs with Pidgin.
For instance, you can send adorable smileys from one of your contact while replying to one of your friend from another IM tool. It has also multiple language support which means you can translate the codes and contents of your instant messenger to your desired local language. It is free of charge because it is under GNU license. It is also supported by your favorite platforms like Windows, AmigaOS, BSD, Linux and all other Unix-like Operating System.
Pidgin also supports great choices of plugins for encrypting and managing your software. Therefore, you need not to worry for any confidential information that you've talked within Pidgin because you are protected by an encrypting program. It also includes customizable features like tabbed conversation, off-the-record messaging chat logging and more.
3. Yahoo Messenger
Get close with your contacts and buddies even if your busy navigating your email, choose Yahoo messenger. This instant messenger is a portable type of client tool. It is easy to install this chat software protocol with the gadgets of your choice. It can run smoothly from the best Operating System today.
It includes support from Solaris 8, iOS, Windows, Mac, FreeBSD, SunOS, and other portable platforms. This instant messenger doesn't simply let you enjoy text conversation but as well as voice calls and video calling. It is also capable of allowing you to send voice mail and handles up to 2GB of shared files.
Likewise, it is compatible with plenty of plugins like webcam support, Yahoo music radio and all other protocols. Now, this best instant messenger 2014 wants you to experience advance techniques in instant messaging all for free.
4. Kakao Talk
Give life to your chatting software, download Kakao Talk. Indeed, this is the best instant messenger 2014 for mobile simply spice up your conversation with friends and buddies. It is the most interactive way to stay connected with your contacts. It offers you cuddliest characters to reenact each emotion that you would want to emphasize in every message.
It is also designed with highest synchronization with contacts from your phone. After you've installed this IM all the contacts from your phonebook will be added to your list of friends to in Kakao Talk. It even offers you free call, game platform, cutest stickers and animated emoticons.
It is also highly customizable chat protocol wherein you can change themes from time to time. This is available from Android, Blackberry, iPhone, Windows Phone and all other handy platforms.
5. We Chat
Another amazing instant messenger is here for you to enjoy on your mobile devices, We Chat. This chatting protocol doesn't simply allow you to send text messages but also through a vibrant voice setup. We chat already have almost half a billion active users around the world.
It is supported by widely use mobile platforms like iOS, Blackberry, Symbian, OS X, Windows Phone and a lot more lightweight Operating System. It also offers you prominent features like hold-to-talk voice messaging, sharing of videos and images, broadcast messaging to as much as you want and even location sharing.
Chat Unlimited
For sure you can't still get over which of these Best Instant Messenger 2014, you'll go first. Yet, you need not to worry because of all the features prepared to you by this instant messaging maven; it will definitely pave way for you. Needless which of the IM you choose, you'll absolutely start a lively conversation.
It has group chat, video calls, adorable stickers, and inviting emoticons and animated characters to boost your energy even more. You are also guaranteed 100 percent privacy which you can enjoy totally free.