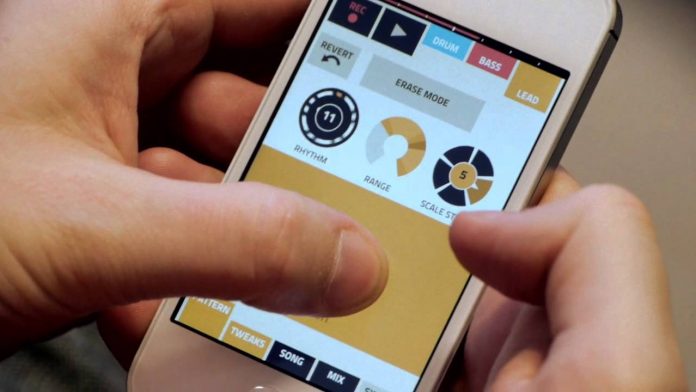 Whether we like it or not, we hear different kinds of sounds every day. Some of them are pleasant to listen to while some can be very annoying. Wouldn't it be nice to create your own music for a change and listen to your own musical creations every day? Now you can, with these amazing music-making apps. Download them now and make wonderful music.
Apple GarageBand
Apple GarageBand allows you to create high-quality tracks with "smart" versions of strings, drums, bass, and keyboard. It is as simple as tapping on buttons and create beats by moving icons into a grid and selecting between loud and quiet, simple and complex. There are quite a few loops, which you can play with. There is also house and hip-hop drum machines, and vintage synthesis leads. It has a built-in microphone for sound recording and has a feature, called the Inter-App, that allows compatible apps straight into the sequencer.
Beatwave
Beatwave is a grid of glowing squares that is great for beginners because of its user-friendly interface. Just tap the grid to activate notes, and scroll bars to light up the squares.
By activating the solid lines, you can create chords and zig-zag patterns for arpeggios. For a wider range of sounds, a premium subscription is needed. But, what is included in the app is enough to create videogame soundtracks and other music.
Casio Chordana Composer
The app will require a two-bar melody sung or whistled into the device's built-in microphone. Then select a music genre or any musical setting and the app will take it from there. It will work out the perfect harmony to create a track. The music genres available are pop, jazz, dance, and rock. It can make out-of-tune vocals into something worth listening to.
Keezy
This one comes for free, with limited features. It is an eight-track version of an MPC sampler that comes with 15 soundboards and a built-in microphone. It is a very simple app perfect for experimenting with music-makers.
Korg iKaossilator
The Korg iKaossilator is one of the most affordable touchscreen technology for creating music. It is user-friendly, which can cater to both beginners and pros alike. You can play music by simply stroking, tapping, or rubbing the screen with the use of the finger. You can easily create tracks with the five loop sequencers and control them for DJ-like performances. Your performance becomes even more exciting as the app moves along with every beat, through the app's bold visual effects.
Moog Filtatron
It is a real-time audio effects engine and studio tool that is modeled from the Moog Ladder Filter. This filter gives the app its characteristic warm and thick sound coming from its instruments. It has an on-board oscillator, sampler, and microphone input. It gives free-reign on all major sound-sculpting parameters, so you can unleash your creativity. It also samples loops, which can be used to create your own unique sound. The app also contains an effects module and amp-controls that provide different tones ranging from warm analog overdrive to distortion.
Musyc
The Musyc app simply turns touch into music. It ends up creating music when you fill a canvas with shapes of different colors. These shapes generate sounds by interacting with one another through bouncing, swinging, colliding, and rolling inside a user-generated environment.
Experience the shapes vibrating inside containers, and adding new elements to create new sounds. It is like exploring the beauty of sound through the musical energy that surrounds you.
Propellerhead figure
The Propellerhead app has a simple and stylish interface that is ideal for making music on the go. There are five tabs from the top and bottom, which makes navigation easier. It offers fast transitions and comes with amazing animations. It contains three elements: the drums, bass, and lead, which allows you to create patterns and tweak the instruments according to their sound qualities. This makes setting the rhythm of the instruments easier. Playing the instrument has never been easy. You can do this simply by sliding your finger across the screen, and you can do the same thing when adjusting the tonal characteristics of the instruments.
Quincy
Quincy is one of the best composition tools that comes with a Life editor, a library of patterns, color mixes, color mixer, an adjustable grid size, and plenty of display options. It has three sound modules-Chroma, Gregorian, Pentatrix. Each module has its own algorithm to create sound. It also defines the key and the base scale.
If you want to make a career out of making music, now is your chance. These apps are perfect tools to experiment and create your own beat. It is also ideal for people who just want to have some fun creating their own tracks. They can be used by both novices and pros in music-making, so take your pick.