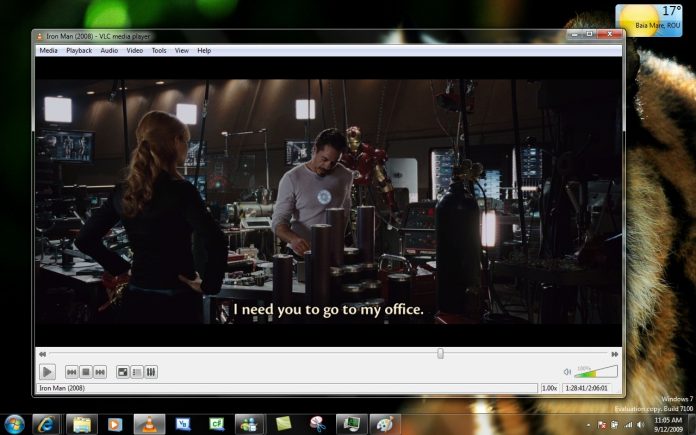 Everyone is very keen on choosing the type of Operating System or platform to run their computers. Apparently, nobody wants to take in the average platform other than the most trusted type, Windows. Windows has always been well-known for supporting all types of software applications. It handles it systematically making sure that it can transform simple features into the grandest output, which everyone hopes for.
One of the perfect examples that this platform is well-loved over the other is the growing quantity of most downloaded media players for Windows. The immeasurable number of users, which uses Windows as their primary option in downloading media players, is just one of the solid proof that indeed this platform excels among the rest.
1. Windows Media Player
What else can take the prime spot than Windows own creation, Windows Media Player. Here, you can expect a dynamic tandem. These most downloaded media players for Windows have already substantiated its capabilities and potentials in the field of multimedia. It is built with expert principles only by the Windows platform.
This top media player allows you to enjoy all its functions and features from the most advance OS down to the classic version of Windows.
a. Windows Media Player Multimedia Manager
WMP is highly noted for its expertise to deliver the most organize multimedia solution. It has a specially developed media library application. Hence, you can view images, play music, and display videos of your choice on your computer supported by Windows OS. You may also enjoy the same benefits even with Windows-mobile-based gadgets and Pocket PC.
b. Windows Media Player Beyond Basic
This media player will never allow you to have a plain experience. In fact, it holds amazing roles more than just playback and streams. Instead, it enables you to rip and burn music and all other media files to various physical media like a compact disc.
c. Windows Media Player Visualization
It supports various types of media visualization which includes Battery, Alchemy, Bars and Waves. These visualizations give you the actual frequency of your played files in colorful display.
2. Media Player Classic
Media Player Classic can be suitably described as a media player with perfect simplicity. It can flaunt your elegance out of its classic look. In fact, it is even compared as the mimic version of Windows Media Player. Yet, with all its prominent features, you can instantly distinguish the difference between the two.
It can also flash you great variants with advance characteristics like MPC-Home Cinema and MPC-BE (Black Edition).
a. MPC Convenient Size
Don't be deceived by the handy size of MPC. For a 7.3 MB, you'll be surprised at how far Media Player Classic can bring you. It is ideal for all your 32-bit and 64-bit Windows computers, complete with all the features and functions that you need to be fully entertained.
b. MPC Advance Options
You'll never imagine how this tiny media player can completely fulfill useful functionalities. It can offer you video decoders, remove screen tearing and even support enhanced video renderer method.
c. MPC Removable Media
Aside from all the default qualities, MPC also has consistent physical media support. It is capable of handling DVD, SVCD and VCD without asking for additional software or codecs.
3. DAPlayer
Be very interactive with your advanced media player, download DAPlayer. This media player has the competence you've been looking for in your Windows computers. It is made with plenty of preferences which allow you to set the media player according to your need.
DAPlayer is free media player obtainable at a minimal size of 15.2MB.
a. DAPlayer Numerous Codecs
DAPlayer is confident to offer you stable performances because of all is powerful codecs support. It doesn't simple handles dozens of codecs but hundreds of recognized audio and video codecs over 400 all in all.
b. DAPlayer High Definition
DAPlayer allows you to enjoy default playbacks but can lead you to more excitement multimedia experience. Aside from Blu-rays and DVDs support, it also handles H264, AVCHD and MKV which are variants of HD formats.
c. DAPlayer Cool Interface
This most downloaded media players for Windows will never give you any dull navigation because it has the stylish and lively design to excite you.
4. Total Video Player
If you want to delight yourself with unlimited multimedia excitement but runs out of extra space on your drive, Total Video Player is the answer. For a prudent file size of only 3.66 MB, you'll already take complete software that can offer you dense features which you ever dreamed of.
a. Total Video Player Resilient Support
This media player is a perfect match to all your Windows computers. It can run smoothly even with your Windows 2000, XP and other older version Windows.
b. Total Video Player Obtainable Interface
This media player is setup in a way accessible to all types of users. It has controllable menu and well-arranged layout with all the noticeable commands lined into it.
c. Total Video Player is Free
You can take this media player anytime you want without spending any amount out of your pocket. It is free software which also allows you to play CD and DVD files.
5. VLC Media Player
You'll never sheer your Windows experience without saving an orange and white traffic cone icon on your screen. Yes, VLC media player is the best way to complement all your Windows Operating System totally free.
a. VLC Media Player Technology
This best downloaded media players for Windows is recommended as a complete technology as a whole. It can create you functions way ahead a simple media player. It uses advance video compression technique, handles video CD and streaming protocols, a media server and more.
b. VLC Media Player Multiplatform
Apart from consistent interaction with Windows platform, it can also run smoothly with widely used OS which includes mobile and all other sophisticated platforms like Android, Mac and BSD.
c. VLC Variants
Aside from all the default features of VLC, you're guaranteed to appreciate more of its components and qualities from every version that are developed thoroughly for your pleasure.
For instance, Windows 8 VLC ensures that you can take advantage its metro design language that will operate on Windows Runtime.
Perfect Match
When the platform and media player compatibly fit each other, spectacular entertainment is produced. Windows Media Player is my solid bet for this category. Hence, to give you a quick preview of the types of software that you can reliably install for your Windows devices, a careful selection of the most downloaded media players for Windows was suitably prepared for you.