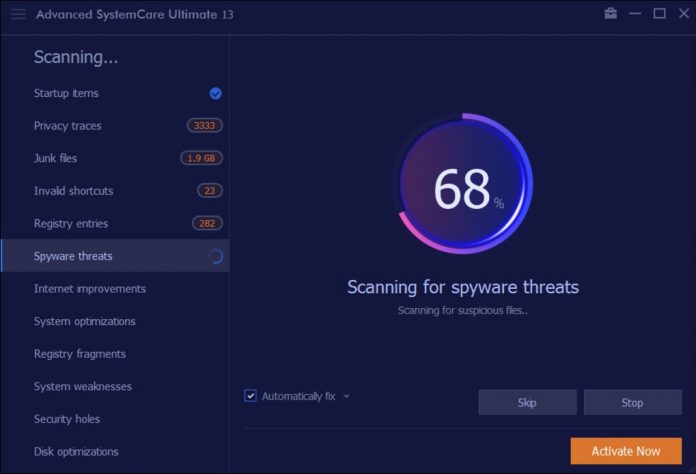 When you have files that require safety and ultimate protection against unnecessary viruses and malware, you're supposed to have Advanced Systemcare in your unit. This is a popular free system that cleans and optimizes the space and functionality of your computer.
For instance, you currently have version 8, you then have the pre-existing features, plus more. Boosting your boot procedures and protect your browser directly from the Startup Manager tool.
You also have the same toolbox, the efficient Turbo Boost, the same widget known as Performance Monitor, and all the other SystemCare features that have been recently upgraded. Another great feature added was the classic and modern skin options designed to create an application-like web page.
Advanced Systemcare has by far been ranked as the Number 1 when it comes to antivirus technology and creating an antimalware mechanism. Incorporating some premium anti-virus properties and a totally comprehensive PC boot-up ability is definitely a big deal.
That would mean ultimate protection of all sorts of virus threats, system lag, web freeze, and crash without basically delaying down any of your systems. Here are some good points noted why this is so far the maximum utility necessary among any others:
Advanced SystemCare Security
Basic protection from any unwanted safety threats is the utmost idea of all this. Anybody would always opt for enhanced spyware protection.
Now, when you want to keep your whole virtual system off from viruses, Trojans, and all sorts of worms, this is something that actually requires easy download and installation. Before you have to work on getting rid of some threats during the sharing and download process, work instead on proactively blocking them.
Advanced SystemCare Performance
When you have your basic systems optimized and you have an optimal tune-up utility for software, you are surely guaranteed a top-notch performance. Having up to 300% internet speed may sound too promising but this is after all, realistic with Advanced Systemcare. Moreover, you get to do real-time optimization on top of the active optimization process in progress. This is just one maximum hard drive functionality.
Advanced SystemCare Support
Surfing and searching the web can ultimately be safe when you have software that allows you to confidently enjoy the activity without having any errors whatsoever.
The software automatically cleans itself for maximum security the moment you log out of the system. Plus, having free of charge customer service support available for 24 hours in 7 days is something you need to have in case you really are after a clean online workplace.
Advanced SystemCare Efficiency
Having a smooth running and seamless functionality from the software is an efficient feature that surely would be worth the attention of technically engaged users. When you think only geeks can keep their tools and software working at a considerable shape, then you should start thinking once more. Advanced Systemcare has been designed to efficiently provide quality service to those who happened to really take advantage of the product.
Advanced SystemCare Health
Just like any human being, your computer system also requires good health and excellent features at work. The moment you get that comprehensive tool downloaded and installed, your system is like freeing itself off of any excess baggage which must have been the reason for slow activities and goings-on in your unit. When your system is healthy, it can surely work perfectly well. So, for you to do that, you need to have Advanced Systemcare.
Advanced SystemCare Flexibility
There are times that the software you download would require you to dump whatever you have had installed prior to the act. When you do this, it would simply mean you are trashing off what you used to have, all of it, in exchange for whatever it is that you need to download.
This is not the case with Advanced Systemcare as this is flexible enough to simply fit in the picture without having you to go through some major waste.
Advanced SystemCare works well with the majority of other security software, free or otherwise, and this includes all features essential for safekeeping what you have installed and stored in your unit. Users who have been increasingly downloading Advanced SystemCare as also want to have the same advantages existing users have with the software.
The software is very user friendly and this is extremely commendable for both starters and experts in terms of maintaining a clear virtual system. As a result, a better experience is guaranteed especially when one is into web surfing and video streaming. A lot of chores get automated when you have this in your tools.
System tweaks, anti-virus capability, clean system –all these must have been a difficult worry for you before you have had Advanced SystemCare installed. Now, you need not go through the rigorous tasks of waiting as the files you are downloading takes time it would need you to work on something else while it wraps itself up. Download and install Advanced Systemcare, and this and you are on your way to a better surfing and streaming experience.